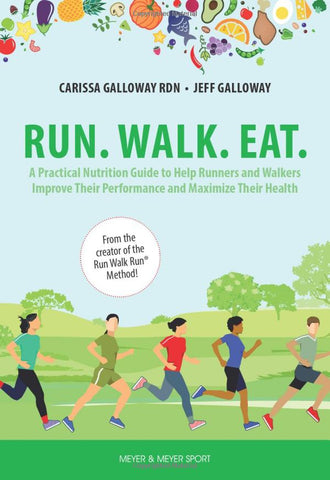 Run. Walk. Eat: A Practical Nutrition Guide to Help Runners and Walkers Improve Their Performance and Maximize Their Health
Autographed copies available Now!
Good nutrition is an important facet of good health, and good nutrition is even more important for runners. Whether a person is running a 5-minute mile or a 15-minute mile, their body needs the right fuel for performance, recovery, and overall health. In Run. Walk. Eat., runners will have the best nutritional guidelines to eat for training and performance. Olympian and running coach Jeff Galloway and registered dietitian nutritionist Carissa Galloway break down nutrition to provide readers with simple changes that not only improve performance, but also lead to lifelong eating habits. They provide a nutrition education that puts the runner in charge of their food choices to train harder, perform better, and recover faster. For those runners with additional weight-loss goals, the authors provide weight-loss strategies. Also included are meal plans, shopping lists, and 21 recipes. This nutrition guide is meant to accompany Jeff Galloway's proven Run Walk Run® method and can be incorporated into any run-walk-run training program.