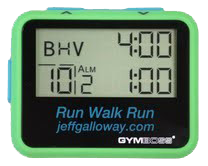 Run Walk Run Timer
This Run Walk Run vibrating timer with stopwatch and clock easily sets up your run/walk intervals. Simple setup with dedicated set button. Large display. Low battery indicator. Rugged non-slip case. The timer can be set for any two different intervals from 2 seconds to 99 minutes & offers alarm by beep, vibrate or both. Has clip. AAA battery not included. This item is about the size of a pedometer.  Note this item is not water-proof. Some runners use a baggie or purchase the wristband to prevent any moisture problems. Band not included. One Color: green.
Need a new pair of shoes?
Save 10% by purchasing together! Bundle the timer with any pair of full-priced shoes and get 10% off by using the coupon code "timerbundle" at checkout!